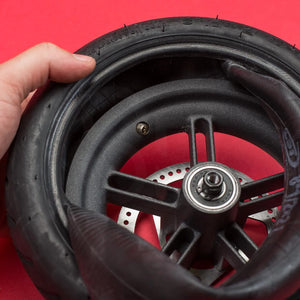 Riders Notes
Cant get to the Leeds Showroom? Send your wheel to us! Or simply struggling to fit yourself? Let us fit for you with same day fitting.
Same day fast tire repair at Man Firth Electric Showroom & workshop
From the day we receive your new tyre will be sent back repaired within 48 Hours/2 working days- please allow for delays and weekends/bank holidays
Wheel inspected and cleaned
Only send us the wheel – not the whole scooter
Drop in service available- arrive before 2pm for same day turn around
Electric scooter tire fitting service
We all know how annoying it is to change a tire. If you haven't tried already, take our word, spoon handles or screwdrivers on the kitchen floor are not the way forward.
Let us take the headache/arm-ache away from you. Our in shop workshop and specially trained team are a dab hand at changing tires and inner tubes, we will even fit solid tires.
We also specialize in fitting tubeless tires (who has an air compressor at home?).
Electric scooter tire fitting – How it works
Simply select your tires or inner tubes from our tyre and inner tube section (don't see what you need, give us a call, we do stock a large selection), add them to the basket. Then add Electric scooter Tire fitting to the basket. 1 item = 1 tyre change.
Once you have paid for your order simply head to Parcels2go and input our details. The price varies on weight and delivery company used, We always find parcelforce are a good option as you can either print the label and drop off at the nearest post office, or arrange a collection for the following day. They also deliver to us first thing in the morning, so there is a higher chance of us getting the repair done and your wheel back on its way, same day. Parcels2go are a broker and you will find them a lot cheaper than paying at the counter. All their services also come with tracking details, and you don't always need a printer.
When your wheel arrives with us we will process in under 24 hours and post back to you as part of our Electric scooter tyre fitting service (please at checkout select free shipping on your order) unless you are outside of the UK. We include the return to you for free due to the time saved from not taking a scooter to bits.
Please note we do not accept full scooters with this service just the wheel/motor, if you do send your full scooter to us we will add a service charge due to the extra time spent by our team and the extra cost in shipping back to you. However we will accept full scooters as walk ins and collections from our store.
When taking a wheel off that contains a motor, Please be extra carful with the cable, and this also extends to packaging (please protect that cable, don't just throw it in a box with no padding, a new motor is not cheap) If your motor cable is damaged, we will take a photo of its condition before carrying out any work on the wheel as we will not accept liability if it arrives at our shop broken.
Electric scooter tyre fitting – our service
With our electric scooter tyre fitting service will take the old tyre of, inspect the wheel rim for damage, clean the wheel, fit the new inner tube or tubeless valve, then fit your tyre, we will then inflate it to the correct level, package it up and send it on its way back to you. This is not a slow service and we do aim to carry out the work and post back on the day it arrives.
Please note during this process we are happy to include Brake disc fitting at no extra charge, just select the correct brake disc at checkout and we will do the rest for you.
Q) How do I know I need a new brake disc? A) When you are riding, if you can here a metal rubbing noise that is not continuous, this noise means your brake disc is warped. If it is a constant noise, it means your pads are rubbing and need adjusting as when you are riding, there should not be any noise coming from your brakes unless applied.
Currently the electric scooter tyre fitting service is only open to 8″ and 10″ (85/65-6.5) wheels anything above that size there will be a surcharge of £10