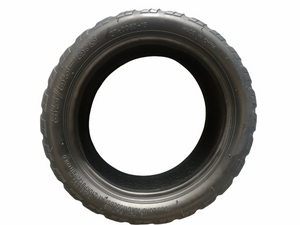 Kugoo G booster / G2 Pro Outer tyre. Yuanxing 85/65-6.5 Tyre. UK stock
Nice and thick to prevent future punctures.
These slide perfectly over the wheels and are the perfect replacement for a torn/worn tyres.
These are for inner tube ONLY
How to change the Kugoo G-booster Tyre.
Firstly, you need to remove the wheel from the scooter using a 8mm spanner.
Remove the brake disk to avoid damaging while carrying out the change. (if a rear wheel change be careful not to damage the motor cable)
Making sure the inner tube is flat, insert tyre levers in between the tyre and the the wheel.
Working your way around add more tyre levers to the process until the tyre pops out. Remove the tyre and innertube and wheel fully and check for damage.
Soak the new tyre in warm water for around 10 minutes will make the process easier when putting back on.
Making sure the tyre is dry put one side of the tyre back on the scooter and insert the inner tubes valve through the hold. Pushing the innertube under the tyre.
Now reverse the process when you used the tyre levers to take the tyre off.
Making sure the tyre fully inflates and holds air before putting back onto the scooter is a top tip as if there was any damage to the inner tube when putting the tyre on, this will save you time.
Re attach the brakes and then the wheel to the scooter.
Test your brakes and make sure they are aligned correctly.