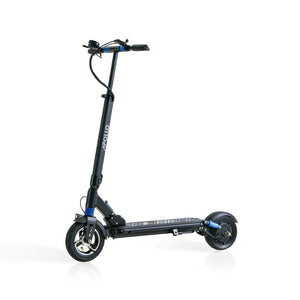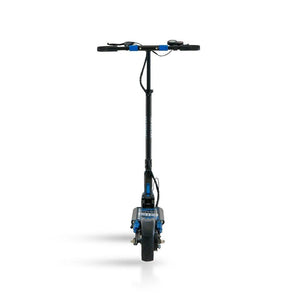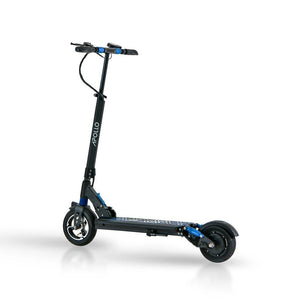 APOLLO LIGHT ELECTRIC SCOOTER
DESIGNED FOR THOSE ON THE MOVE
The Light is the most compact and lightweight scooter in the Apollo range. Portable enough to bring on the bus or train and compact enough to keep under your desk, this electric scooter will complete your commute. Weighing only 37 LB (17 KG), featuring a handle add-on for carrying, and a 3-second folding mechanism - the Light seamlessly integrates into your commute. We thought about your safety too, adding front and rear LED lights to ensure you stay visible at all times.
SMALL AND MIGHTY
For the first time ever, portability comes with performance. Apollo Light features a high-efficiency (86% energy conversion rate) brushless 350W motor with 500W peak output. Designed for riders weighing up to 220 LBS (100 KG), it reaches 15 MPH (25 KM/H) in 6.2 seconds. Not bad for a scooter you can carry with one hand.
HASSLE-FREE BRAKE SYSTEM
Apollo Light is a seamless part of your commute and brakes should be no exception. Equipped with a rear drum brake, the Light requires three times less maintenance than other brake alternatives. Forget cleaning, replacing pads, and adjusting cables on a weekly basis - the drum brake will take care of it all for you. In addition, Apollo Light also features a re-generative electric brake which will pass a reverse current through the motor, slowing you down and re-charging the battery at the same time. Overall, this adds up to an average braking distance of 13.8 ft or 4.2 meters.
LITTLE GOES A LONG WAY
With a 48V 10.2aH battery, the Light offers 22 miles (35 KM) of range while riding in eco mode. When riding in realistic conditions at full speed, the Light boasts a range of 16 miles (25 KM). When you do eventually find yourself in need of a re-charge, it will take 6 hours with the regular charger or 3 hours with the fast charger.
We proudly use cells manufactured by Dynavolt, the world's leading manufacturer of motorcycle batteries. After extensive comparison testing of Dynavolt and LG batteries, Dynavolt performed comparably up until 2,600 charge cycles or roughly 6 years of usage assuming daily charging. All Apollo batteries come with 24 months of warranty - the longest warranty coverage on any electric scooter worldwide.
CRUISE COMFORTABLY WITH DUAL SUSPENSION
Featuring a high-performing dual spring suspension in the rear and an additional spring suspension in the front, the Light offers the best shock absorption within this price category. The additional 8.5 inch air-filled tire in the front acts as a safety buffer for additional protection. A solid rubber tire in the rear ensures no damage will occur to the motor as a result of impact.
COMMAND CENTRE AT YOUR DISPOSAL
Stay in-the-know with key riding statistics such as speed, distance, battery charge, and more. The Light comes with a number of configurable settings too - choose between kick-and-go or instant acceleration. Turn on cruise control for longer rides. Choose acceleration strength or switch between imperial and metric systems. In other words, configure the Light to make it your own.