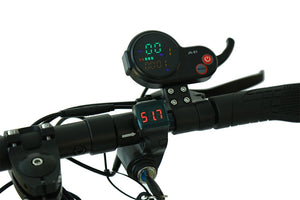 Riders Notes
Now the ever popular T4 Max adult electric scooter just better, with DUAL MOTORS. The T4 MAX is a Man Firth Electric popular adult electric scooter to our customers in the UK so the DUAL T4 Max makes perfect sense.
The T4 Max, V-X4 Electric Off Road Scooter comes with 2 x 500 Watt motors on the front and rear. With 10
inches air tires and a 17.5Ah battery, the ride promises to be smooth and comfortable.
The V-X4 Electric Scooter is backed by a strong battery and powerful dual motors. It gives amazing




speed and impressive range. It is equipped with a 48 V 17.5 Ah lithium battery with a charging time




of about 9 to 9.5 hours. There are two powerful motors, 500 Watts each, fitted on the front and




rear. The scooter gives a maximum speed of 45 kmh  per hour (28 mph) and a




longest possible range of 50 to 60 kmh  (31 to 37 miles) at a single battery charge. The V-X4




electric scooter comes with three speeding modes set at 20 km/h, 35 km/h, and 45 km/h. it has a




climbing ability of 35 degrees and a loading capacity of 130 kilograms. The scooter has a disc braking




system on both front and rear, and is fitted with air tires with tubes measuring 10 inches. The model




also comes with a LCD screen that lets you view the speed, gear and power on an easy display. The




V-X4 electric scooter also comes with some additional features like LED mood lights, angle eyed




headlight, and an electric key. The scooter also has an IP55 protection standard, meaning it is




waterproof and water-resistant. The scooter has a portable, foldable design. Dimensions in folded




position are 1120 x 240 x 380–580 mm. The unfolded dimensions are 1100 x 240 x (80–120) mm.
Key Features
Upgraded Trigger throttle: 
Key lock ignition
Voltage reader
48V 17.5Ah lithium battery pack
Motor Power: 500 Watts x 2 (Front and rear motors)
Folding handlebars
Head light & rear brake light
Dual front & rear suspension
 Maximum Speed: 45 KM/H [28 mph]
 Maximum Range: 50 – 60 KMH [31 – 37 miles]
 Maximum Climb: 35 degrees
 Battery Capacity: 17.5 Ah
 Charging Time: 9 – 9.5 hours
 Maximum Loading Capacity: 130 KG
 Weight: 29KG