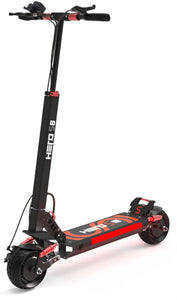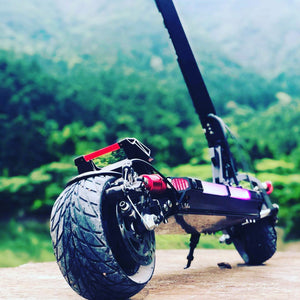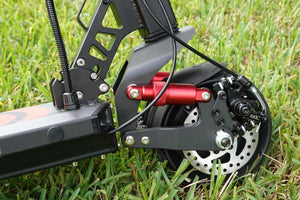 Riders Notes
WANT TO SPEAD THE COST? APPLY FOR FINANCE HERE
HERO S8 ELECTRIC SCOOTER
Reliable, tough, durable and most important... adaptable. The Hero S8 wide-wheel electric scooter adapts to any surface making it truly "all-terrain". This adult electric scooter offers a comfortable and consistent ride at all times. Due to it's wide-wheel set up the scooter remains solid and grounded even at top speeds!
PACKING ONE HELL OF A PUNCH!
The Hero S8wide-wheel electric scooter single sports a 800Watt (reaching 1200Watt) Brushless motor, acceleration is instantaneous and with full disc brakes as standard there is plenty of stopping power!
CAR GRADE BATTERIES...
The Hero S8 wide-wheel electric scooter comes in 2 battery variants 48v 13ah & 48v 21ah, with the larger of the two offering a maximum range of 60km (37 miles)
LIGHTING UP THE WAY!
The Hero S8 wide-wheel electric scooter comes standard with front and rear LED lighting and Brake lights, but the fun starts when you turn on the side lights! Whilst providing you with so much more visibility, these lights can be customised to any colour or sequence of your choosing (RGB 16.5 million colours), and can even be controlled via the "LED Lamp" app.
NO SHORTCUTS WHEN IT COMES TO QUALITY.
The Hero Scooters are manufactured using top quality car-grade aluminium alloy that gives this product a tough, rugged, durable and stable construct.
Now with Thumb Throttle installed as standard
WANT TO SPEAD THE COST? APPLY FOR FINANCE HERE
Key Features
Motor: 800W brushless with peak of 1000W
Thumb throttle fitted as standard
IP 54 weatherproof rating 
Battery: 48V 13ah or 21ah
Charging time: 6-8 hours
Foldable
Range: 45 mile plus range
Tyres: Wide wheel 8 inch solid wheel- no more punctures
Speed: 25-30 mph
Brakes: Disc Brake + electronic Outage Brake
Rider load: MAX 120kg
Gradient Climb: 15 Degrees
Net weight: 25kg