Ninebot MAX G30LP 350W Electric Scooter Review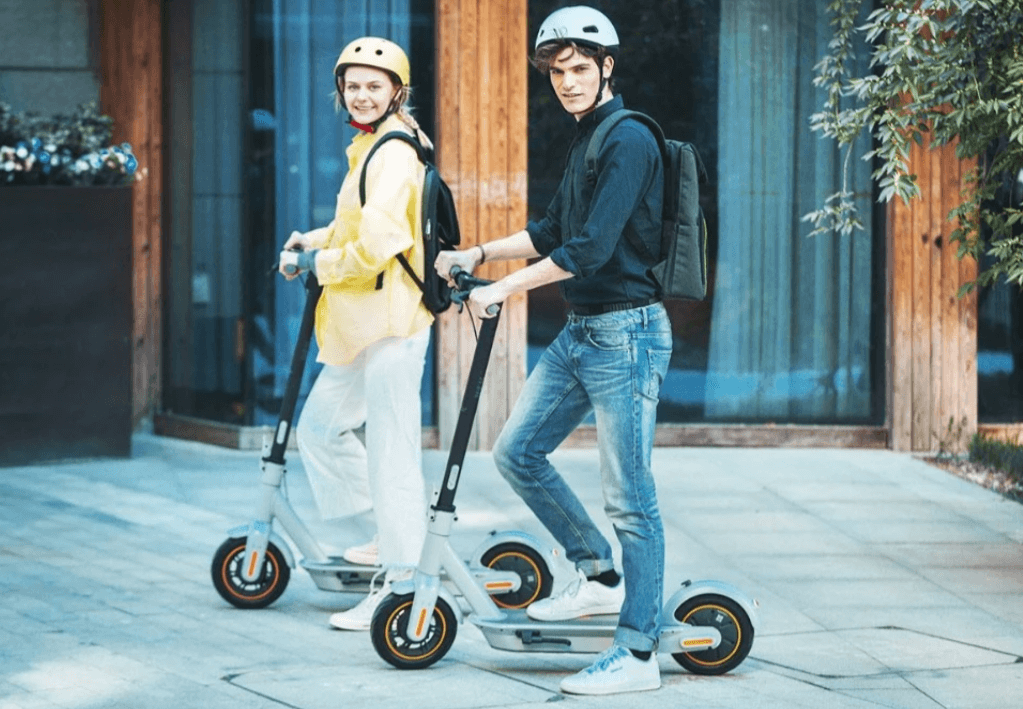 Segway-Ninebot has announced Ninebot KickScooter Max G30LP with the aim of "humanizing" the alien of the family, that Ninebot KickScooter Max G30 that not even a year ago, with a surprising range (65 km) and a series of technical beginnings, led the sector of electric scooters on a territory not yet explored.
Compared to the home flagship Segway-Ninebot, KickScooter Max G30LP is shorter, lower and also lighter (almost two kilograms less) due to a battery pack reduced to 10.2 Ah, still able to ensure runs up to 40 km.
The older brother Ninebot KickScooter Max G30LP has maintained a lot: the 350 watt electric motor in the rear wheel, the 10-inch tubeless tyres and IPX5 certification, to name a few aspects. The aesthetics of the highest performing KickScooter has remained unchanged, but a lighter shade of grey has been used to mark the boundary between the two Segway-Ninebot models.
Exclusive First Look: Segway Ninebot MAX Gen 2 G30LP Global Edition
Who thought you could improve on perfection? When you're already one of the best in the market, there's nowhere to go but up. Take an exclusive first look at Segway's second generation Ninebot MAX, the G30LP Global Edition. With an upgraded motor for more power, updates to tyres, suspension and more, it takes the already awesome Ninebot Max G30 first generation to the next level.
In Summary, here are the main differences with the Gen 2 Ninebot Max:
Upgraded brushless motor
Reduction in weight
Grey and Black colour
Reduction in range and battery
The Ninebot MAX was already a great electric scooter, and with the additional small improvements, the MAX G30LP reinforces it's standing as the best daily commuter scooter in the market today.  Dash through the streets and breeze through the distance: experience maximum performance and maximum fun with the new Ninebot MAX G30LP.
Stellar Motor Performance
The Ninebot Max is already well-known for its powerful 350W-700W motor. But the G30LP wants to reach better heights with its brushless direct current motor.
You can enjoy higher efficiency and better performance with a brushless motor. Its innovative design counters the pesky problems that other motors have. You won't need to worry about sparking or your brushes wearing out. Plus, a brushless motor works with a computer for better control and can even take into account the speed of your motor, leading to more efficient riding. It's an added bonus that this kind of motor emits less electrical noise so you can experience a peaceful, noiseless ride.
There's no need to sacrifice that Max's well-known power with the new brushless motor. With the Ninebot G30LP, you can get all those cool upgrades and still enjoy a nominal power of 350 W and a maximum power of 700W that the Max electric scooters are known for. 
With this e-scooter's upgraded brushless motor, quick acceleration and incredible performance are within easy grasp. And that's just the beginning of the MAX G30LP's impressive upgrades.
A Burst of Speed & Improved Hill Grade
Speed is the name of the game. The MAX G30LP can reach top speeds of 30 kph just like the Ninebot MAX. 
Another excellent news for urban riders is that the MAX G30LP can reach a maximum distance of 40 km, which is a perfect range for a commuter scooter. You can go to work/school and get back home in just one charge. With the new Segway Ninebot MAX G30LP, city riding would be a breeze.
Speaking of urban riding, you won't need to worry if you live somewhere hilly because the all-new MAX G30LP has an improved hill grade of 20%. This means it can smash steeper and longer hills even easier than the original Ninebot Max G30P, which already had great hill climb ability between 15 - 20% gradient.
Innovative Smart Battery System
Like the Ninebot MAX, the MAX G30LP boasts of a powerful built-in Smart Battery System with tons of useful safeguards. But what makes the MAX G30LP superior is the 40 high-quality, big capacity lithium batteries all lined up to provide it with the power it needs for maximum performance. Talk about high power supply!
You won't even need to worry about battery safety because this system features:
Short Circuit Protection

Overcurrent Protection

Two-Way Charging Protection

Two-Way Discharging Protection

Temperature Protection

Automatic Under-Voltage Sleep
What's more, the new MAX G30LP's batteries can pack a meaner punch while maintaining a lighter weight at almost 2 kg less than its predecessor. So you get better performance AND better portability. With all these defences and improvements in place, you can kick back and enjoy the superior experience that the MAX G30LP gives you.
Experience Regenerative Braking
Of course, the MAX G30LP does not skimp on Segway's well-known innovation. So you're guaranteed to get the incredible regenerative braking system that Ninebot scooters are known for. With this braking system in place, your scooter can be transformed into an electric vehicle that uses recycled energy collected from braking. 
All you have to do is use the brakes and energy is stored until you need a boost. It's a fresh and economical way to enhance your experience and even lengthen your range capabilities. Smart, right?
Expert Folding & Splendidly Lightweight
Another reason that makes the MAX G30LP an excellent daily commuter scooter is its classic folding system and its incredibly light weight. This electric scooter features a folding system used in most high-end folding bikes, and you can do it in just 3 easy clicks. Then you just need to bring it on transportation with you or store it away inside car trunks or under your office desk.
At 17.5 kg, you can also carry it to any destination effortlessly. Stroll along sidewalks or go up stairs with ease. It's also lower and more compact making the MAX G30LP is easy to lift. It's more convenient to bring along than the Ninebot MAX which weighs about 3 kg heavier at 20kg.
Ultimately Riding in Comfort 
Rocky rides and bumpy drives are a thing of the past. Your trip's just about to get better because the new MAX G30LP has both front and rear shock absorption to give you the smoothest experience on paved and asphalt roads.
Plus, you won't find better comfort with its impressive 10-inch pneumatic tyres. They truly elevate the riding experience you're getting because of how sturdy and safe you'll be on this electric scooter. 
Choose the Ride You Want
Quickly navigate through the streets with the easy controls you can find on the MAX G30LP's LED digital dashboard. It conveniently shows your current battery power, current speed, and even the speed mode you're on. 
Switching modes is quick and easy as well! All you need to do is click two times to change between Energy Saving Mode, Standard Mode, and Sport Mode. Each mode is customized to provide you with the speed you need to really give a unique experience each time you ride. 
Advanced Cruise-Control
Aside from the upgrades in motor power and battery performance, the new MAX G30LP also acts like a modern car with its built-in control components. It uses a unique algorithm to help you set the speed of your ride.
Its cruise control technology automatically starts your riding mode and helps reduce fatigue due to driving control. What's more, this advanced function enables you to save battery and prolongs your ride. 
Exciting Features for Thrilling Rides
Speed, range, and motor power are all great, but those aren't the only things that make the MAX G30LP a superior electric scooter. This e-scooter presents an outstanding design with revolutionary features that boosts up your riding experience significantly.
Enjoy paramount safety with a 2.5W LED headlight and bright rear sidelights to increase your visibility and illuminate your path. Make the most out of your dual braking system featuring an E-ABS electric brake and a rear fender brake for maximum security.
Be more social with the MAX G30LP and its novel 7-inch platform. Now, you can accommodate another person on your e-scooter because your deck is impressively spacious. With this feature, you can comfortably give your friends or kids a short but exciting ride. Plus, the MAX G30LP's deck is made with an anti-slippery design for better contact friction.
What's more, the new MAX G30LP comes in two stunning colors. If you prefer a more casual and unconventional look, you can now choose for a grey MAX G30LP. Fans of the more traditional electric scooter look can still opt for innocuous black.
Always Connected Wherever You Go
Like most Segway Ninebot kick scooters, you can also connect the MAX G30LP to your mobile phone via Bluetooth. This way, you're always updated on your riding speed and battery life. You can even upgrade your scooter firmware or review your riding data over at the Ninebot App.
With all this information available through the click of your fingers, you can easily customize and personalize your riding experience with the MAX G30LP. It's a complete upgrade from the previous models, that's for sure. So if you want to get the maximum performance from your electric scooter, you'll definitely have maximum fun with the new Segway Ninebot MAX G30LP.