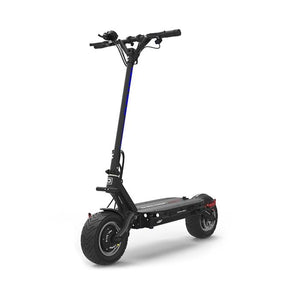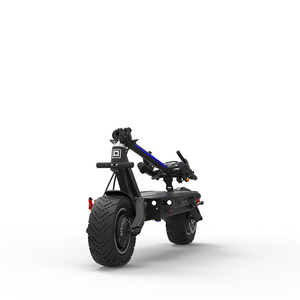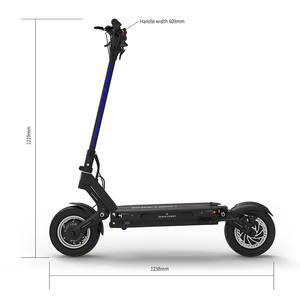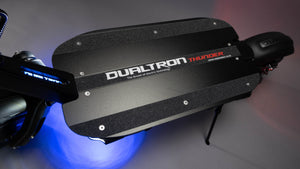 Dubbed 'the best scooter in the world', the Dualtron Thunder electric scooter brings excitement to any experienced rider. A monster of a machine, dominating the electric scooter charts and reviews, the Dualtron Thunder is a roaring success. This fast, best-in-class scooter is supported by huge 11inch pneumatic tubeless tyres that makes it a comfortable ride. An important factor if you're taking it to its full range: 75 miles. You will not be left disappointed and you will not be left wanting more after you've taken this electric scooter for a ride.
Dualtron Thunder: raw power
The new Dualtron Thunder is one of the most powerful and fast electric scooters on the market.
It begins to approach the performance of a scooter or a motorcycle.
Like all Dualtron models, the Thunder is equipped with two engines; but the dualtron thunder has two of 2700 W each.
The total power developed by this double engine is 5,400 W.
This absolutely requires the wearing of protections by the driver in the form of a helmet,
Dualtron Thunder: excellent autonomy
What would be the use of having power without autonomy to take advantage of it? Surely not much.
Well, with the Dualtron Thunder , you have a powerful 60 volt lithium ion battery and 35 Ah LG.
The Thunder can travel 75 miles on a single charge.
The Dualtron thunder is therefore perfectly suited for long distances.
New Dualtron Thunder: Model Innovations
The new Thunder electric scooter from Minimotors obviously has several improvements on multiple points:
Tires and suspensions
The Dualtron Thunder tires are tubeless (tubeless), wide, stable, and 11 inches in diameter.
They give more height and absorb shocks.
This allows to attack more serenely the rough terrain.
This scooter is not afraid of impracticality. Its suspensions are improved (PFlex system) bring softness and comfort to the driving.
They can be adjusted in five different ways: height, stiffness ... etc.
Braking
The Dualtron Thunder electric scooter is equipped with a dual brake system, namely a hydraulic brake on the front wheel and a disc brake on the rear wheel.
This braking is more effective, ensuring excellent control and stability for pilot safety.
And given the speed that can reach the aircraft, better be equipped with the best possible braking system.
Other smaller innovations are still to be seen as the logo of the brand that lights on the handlebars.
Dualtron Thunder: for whom and for what use
More than a city car, the Dualtron Thunder is a scooter that finds its use in all situations of mobility.
Its wheels, its power and its utility make it possible to use it everywhere, and all the day. Given the power and speed, the Minimotors Dualtron Thunder is better for adults, and specifically for adults under 120 kg.
Range and speed is dependant on riders weight, road surface, wind and other conditions.
| | |
| --- | --- |
| Motor | Max 5,400W BLDC Dual Hub Motor |
| Battery type | 35Ah - 2,060Wh / LG 3500 |
| Voltage | 60 volt |
| Max mileage (km) | 120 (max 75kg / 25km/h) |
| Max load (kg) | 120 |
| Gradability | ≈ 70% (35°) |
| ABS Braking | Available |
| Brake | Hydraulic + discs 160mm |
| Charging time (1.7A-2A) | 20hr+ (standard charger) |
| Charging time (3.4A) | 10hr+ (When using 2 standard chargers(1.7A) |
| Charging time (6.5A) | 5.3hr+ (When using quick charger(6.5A, option) |
| Charging time (8.4A) | 4.2hr+ (When using quick charger(6.5A)+Standard charger(1.7A) |
| Folding Handlebar | Available |
| Product material | Frame and handle: Aviation aluminium forging alloy 6082-T6 |
| Suspension | 45-step adjustable NEW rubber suspension |
| Tires | 11'' Tubeless Tires (45-50psi) |
| Product weight (kg) | 43 |
| Unfolded size (mm) LxWxH | 1238 x 610 x 1219 |
| Folded size (mm) LxWxH | 1238 x 319 x 543 |
| Dashboard | Smart EYE throttle |
| Light | Quad LED headlight / taillight / brake light / Emergency light |