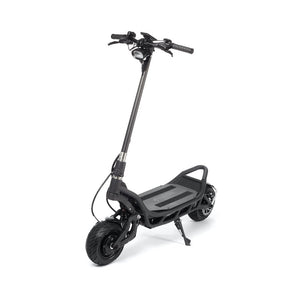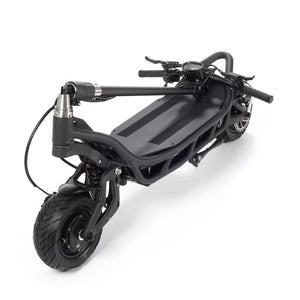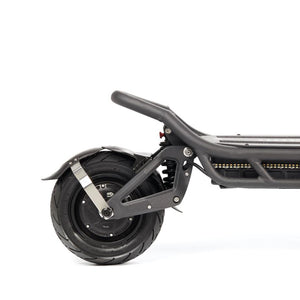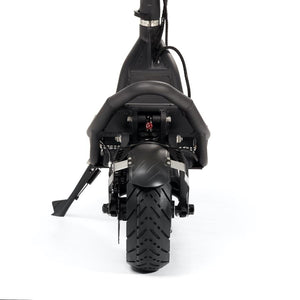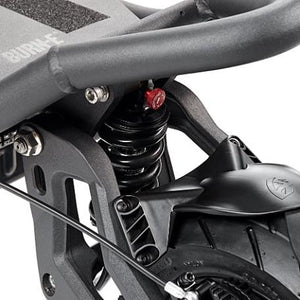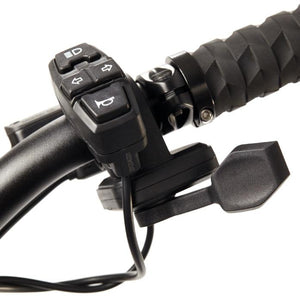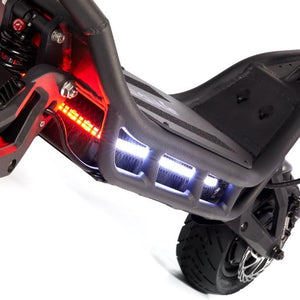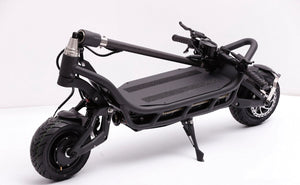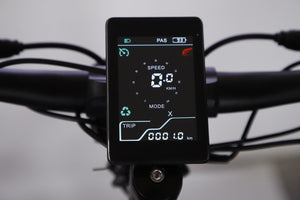 Riders Notes
The Nami Burn-e is the flag ship electric scooter from esteemed designer and engineer, Michael Sha! Its insanely powerful, smooth motors and 40ah battery make it a real beast in the scooter market. The plush suspension, wide deck and buttery throttle make every ride a pleasure. Its an all terrain scooter that can handle the steepest gradients and wildest conditions, come down and try it out for yourself!
Key Features
72V 40Ah battery with 21700 LG cells
Adjustable 165mm hydraulic coil suspensions
Logan hydraulic 4 piston brakes with 160mm discs
Innovative Carbon Fibre Steering Column
Water resistant IP55 and IP67 Rating for peace of mind
The Nami Burn-e MAX is the perfect scooter for all seasons. The IP55 water resistant rating allows for more usage in those harsher winter months. Some components on the scooter are as high as IP67 so it really is the ultimate all weather scooter.
This scooter is so good that Electric Scooter Insider awarded it Ultra Scooter of The Year 2020/21. A very prestigious accolade indeed when you consider all of the other top end e-scooters on the market that it was up against. The NAMI Burn-e MAX has broken even more records and racked up hundreds of thousands of miles from riders across the globe and the verdict remains that it's top of the class.
Explore a new way of riding on two wheels with the NAMI (New Age Mobility Innovation) Burn-e electric scooter. Michael Sha and his team have put years of research and development into the NAMI brand and are dedicated to producing electric transport that pushes the boundaries of technology. Ride and Glide are proud to be sole UK distributors for the NAMI bThe large, clear display has a ton of new smart features. These include 5 rider including the ability to customise a ride mode to suit your style. The two speed controller settings are independent which allows the rider to adjust the acceleration power of the front and rear motor individually. What e-scooter is complete without cruise control for those long rides and it even boasts a built-in overheating protection system.  As well as all these cool features as well as many more the display even has an IP65 Rating! rand and are committed helping it grow as a world wide name!
Light up the sky! The Burn-e MAX electric scooter boasts a 2000 lumen front LED light which is fixed at handlebar height, side LED strips integrated with turn signals and horn which are either side of the deck. These all come with a comforting IP55 rating for peace of mind,
A new patented lock taper folding system makes lowering the steering column seamless. A support base plus quick release system, allows it to be easier than ever to fold and unfold the electric scooter and all machined in type 304 stainless steel.
Key features
Top Speed

95km

Max Range

 

Up to 185km (60kg load, 25 degrees of ambient temperature Based on the flat road 30km/h constant speed driving)

Standard Charge Time

12 hours charging time with standard charger, 6 hours with a fast charger

Weight

50 kg

Max Load

120 kg

Braking

Front and Rear Logan full hydraulic brake with 160mm rotor and cooling fin pad

Motor Size

1500W x2 with hall sensor / Peak at 4200W x2

Display Features

Smart display with riding mode setting ability / Parameters setting for each controller is independent Smart cruise control / Over heat protection built in / IP65

IP Water Resistance Rating

IP55 & IP65

Lighting

2000 lumen front led light, / Side LED strip integrated with turn signal / Motorcycle horn /
IP55

Size when folded LxWxH

1346mm x 620mm x 640mm

Tyres

11 inch tubeless CST slick tyre, Hybrid or off road
tyre available

Cable System and IP Rating

Quick connection for all electric component, for the
cables near handle bar and under the deck / IP 55 for the whole scooter

Deck to ground

288mm

Battery

72V 40Ah LG 21700 Cells

Frame

One piece aviation aluminum welding frame / Solution and aging heat treatment

Suspension

165mm length KKE hydraulic coil shock with rebound adjustment

Controller 

12 mosfet / 50a max current controller x2 / Sine
wave, ip65 

Folding System 

Patent designed thread lock taper folding system /
304 stainless steel folding parts

Charger

72v 5A Fast Charger

Handlebar 

31.8mm diameter / 620mm length handle bar

Main Dimension 

Overall size:
1346mm x 620mm x 1446 mm
Hanlde bar to deck, 1090mm in height
Deck cover:
564x312mm, 766mm in length
include rear foot rest



Package size

140mm x 680mm x 300mm