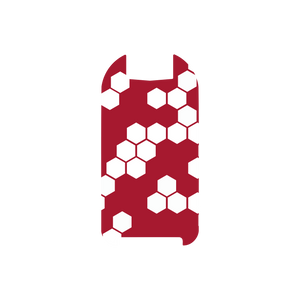 Riders Notes
Custom deck foot plate for Kugoo G Booster electric scooter

Red Hex Design 3mm Acrylic Deck
Premium anti-slip graphics material by Berry Boards
Excellent grip
Easy to install
Water resistant
Please note this custom Deck only fits the Kugoo G-Booster
Deck washers are included with your new deck.
Footboard Material: 3mm Acrylic with custom Anti-slip Graphic.
Every board is handcrafted and coated with several coats of a durable clear varnish to protect it from the elements and keep them looking fresh. The footboard is very easy to install on your scooter.
There is no need to make physical alterations to your scooter frame, it simply fits over the existing deck and is secured into position with four stainless steel latches.